If someone around you is having a seizure it is important to stay calm. The person should be lowered gently to the floor to prevent falls or further harm. Any obstacles should be removed from the area. The person should be turned to the side, if possible, to open the airway and to prevent any vomit from going into the airway. If the seizure lasts more than five minutes or if the person seems to have any difficulty with breathing, 911 should be called.
The following are first aid treatment guidelines for seizures:
Prevent injury by removing objects that the victim could strike. Place cushioning material around victim, if possible.
Stay with victim, monitoring for breathing problems.
If victim bites his tongue and is bleeding, wait for seizure to stop before giving first aid for bleeding.
If you do not suspect head, neck or spine injury, after seizure stops place in recovery position.
If fever is the cause, treat by cooling until alert enough to take medication to lower temperature.
Monitor for responsiveness and breathing.
Do not force any object between victim's teeth.
Do not throw water on victim in attempt to stop seizure or awaken.
Do not leave victim alone.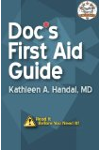 More About this Book
Doc's First Aid Guide: Read It Before You Need It
In a medical emergency, time is of the essence. "Doc's First Aid Guide" is an illustrated, first-aid pocket handbook designed to be used as a quick reference and includes the latest CPR guidelines....
Continue Learning about First Aid For Medical Emergencies & Conditions