The following are the signs and symptoms of a breathing problem:
pale and/or blue face, lips or nail beds
noisy breathing, wheezing
inability to catch breath or shortness of breath
rapid breathing, greater than 20 breaths per minute
pain while taking a breath
The following are first aid treatment guidelines for breathing problems:
Sit the victim upright with support.
If on medication for breathing problems, help with medications.
If a known history of over-breathing from anxiety exists, speak calmly and attempt stress reduction by identifying the fear. Direct victim to a quiet place.
Reassure and remain with victim until improved.
If breathing does not return to normal shortly get medical help.
Do not ignore someone over-breathing.
Do not force victim into an uncomfortable position.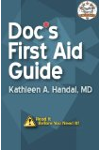 More About this Book
Doc's First Aid Guide: Read It Before You Need It
In a medical emergency, time is of the essence. "Doc's First Aid Guide" is an illustrated, first-aid pocket handbook designed to be used as a quick reference and includes the latest CPR guidelines....
Continue Learning about First Aid For Medical Emergencies & Conditions