During a medical emergency, someone should be available to relay instructions if the emergency is not near a phone. It's also a good idea to check the victim for medical information jewelry and to report findings to the dispatcher. Remain calm and listen carefully -- the dispatcher may give you valuable first-aid instructions for aiding the victim until help arrives. And please, stay on the phone until the dispatcher says it is okay to hang up.
When you call for help, be ready to provide the following information:
your name
your location
description of the emergency
number of persons ill or injured
your phone number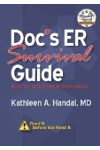 More About this Book
Doc's ER Survival Guide (DocHandal's Guides)
Few people get through life without at least one trip to the emergency room (ER), either as a patient or support person for a family member or friend. Doc's ER Survival Guide is designed to help...
Continue Learning about First Aid For Medical Emergencies & Conditions