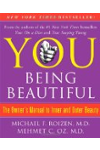 You've likely snooped in enough medicine cabinets to know that they tend to be not only filled with used medicine but also a breeding ground for makeup, empty pill bottles, and bills from 1989. Do yourself a favor and clean out your collection of nastiness, and stock your medicine cabinet with things that can make you feel good -- even when times are tough.
Tools
Dental floss
Soft-bristle toothbrush (don't brush like you brush a toilet, and change every two months)
Mouth mask (if you get the flu, to avoid spreading it to family)
Home-testing blood-pressure device
Self-heating wraps that don't burn skin (for muscle soreness)
Nail clipper
Cleaners
Healthy toothpaste without sodium lauryl sulfate (foaming agent) or a whitening agent (if you have frequent mouth ulcers)
Soap without antibacterial properties (which encourage resistant bacteria) or fragrances (which are allergens)
Skin exfoliant (limits dead cells and reduces adult acne)
Deodorant (not with an antiperspirant so you can let the natural process of sweating happen)
Pain Relievers and Medicine
Topical muscle reliever such as BENGAY, Tiger Balm, capsaicin cream, or Arnica
General first-aid kit
Butterfly tape strips (to close little cuts)
Liquid bandage (cyanoacrylate Dermabond for blisters and small cracks—same as a doctor's Dermabond)
Petroleum-based Vaseline, Neosporin, or bacitracin cream (to keep wounds moist)
Tea tree oil (for pilonidal cysts)
Burt's Bees beeswax lip balm
Gly-Oxide (soothes canker sores)
Pepto-Bismol (for travelers' diarrhea)
Antacids (Prilosec OTC)
Epsom salt (use in a bath for soreness)
Elastic bandages for tight wrapping (RICE protocol)
Benadryl tablets for minor allergic reactions
Toss out these guys -- or think twice before stocking them:
Tamiflu (may be overkill, plus it might cause psychotic reactions)
Imodium (generally, when you have the runs, you want the virus to come out, not stay stuck inside)
Cough medicines with pseudoephedrine, which will jack up your blood pressure
Old expired drugs, particularly liquids that can grow bacteria and change chemically.