To use an automated external defibrillator (AED) to save a life:
1. Turn on the AED. Voice and visual prompts tell you what to do.
2. Open the package of chest pads. The pads are attached to electrical cords that connect them to the AED.
3. Apply the sticky side of the pads to the bare chest. Pictures on the pads show where they should be placed.
4. Plug the electrical cord into the AED connector.
5. Clear the area around the person.
6. The AED will analyze the person's heart rhythm.
7. A voice prompt will indicate whether a shock is needed.
8. If a shock is needed, warn others not to touch the person or the AED. Say, "I'm going to shock on three. One, I'm clear. Two, you're clear. Three, everybody's clear."
9. Press the "Shock" button.
10. Continue to follow the voice prompts on the AED, including performing CPR.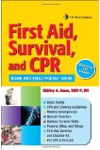 More About this Book
First Aid, Survival, and CPR: Home and Field Pocket Guide
Be prepared for first aid care and survival in any setting-at home, on the road, outdoors, while boating, hiking, or camping. From performing CPR on an adult, child, or infant to dealing with bleeding and shock, cuts and broken bones, heart attacks, emergency childbirth, poisoning, drowning, scuba diving mishaps, wilderness survival, and natural disasters such as tornadoes, wildfires, floods, and earthquakes. This portable, waterproof guide helps you quickly find the information you need to develop a plan of action for assessing and treating all kinds of first aid and survival emergencies. A special feature includes pet safety describing how to assemble a pet first aid kit, performing CPR on a dog and cat, and keeping pets safe during natural disasters. Keep a copy in your home, car, boat, camper, or backpack and be "ready" when emergencies occur.
An automated external defibrillator (AED) is easy to use and could save your loved one's life.

Watch this video to learn more from Dr. Oz about how to use an automated external defibrillator to save a life.




Continue Learning about First Aid For Medical Emergencies & Conditions