The emergency medical services (EMS) dispatcher may tell you where the nearest AED is located and instruct you to send for it. AEDs are common in public places and are also carried to the scene by trained responders.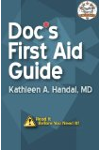 More About this Book
Doc's First Aid Guide: Read It Before You Need It
In a medical emergency, time is of the essence. "Doc's First Aid Guide" is an illustrated, first-aid pocket handbook designed to be used as a quick reference and includes the latest CPR guidelines....
Continue Learning about First Aid For Medical Emergencies & Conditions