A pediatric emergency is any unforeseen, sudden situation during which you truly believe that your child needs immediate medical care to prevent an illness or injury from potentially causing permanent harm or even death. In other words, it's what your gut tells you during a crisis and the judgment you make about a situation while it's happening.
Who are you? You're a reasonable, sane, normal average person -- or what the American College of Emergency Physicians and the American health care system call a "prudent layperson." Why is the emphasis on what you think while the situation is happening important here? Because a bout of mysterious, severe stomach pain is a "medical emergency" for your eleven-year-old (and for your health insurer) even if you spend thirteen hours in an Emergency Room (ER) and run up a $17,000 bill for tests, only to find out later that he was just a little gassy. You're not expected to know the difference between potentially fatal appendicitis and a bad tummy-ache; that's a doctor's job.

From The Smart Parent's Guide: Getting Your Kids Through Checkups, Illnesses, and Accidents by Jennifer Trachtenberg.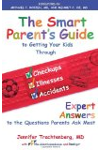 Continue Learning about First Aid For Medical Emergencies & Conditions