It is important to place smoke alarms correctly.
Place alarms on the ceiling or 6 to 12 inches below the ceiling on the wall.
Place alarms away from registers or air vents.
Avoid areas with high airflow or dead air space (often at the top of a peaked roof).
From Good Kids, Bad Habits: The RealAge Guide to Raising Healthy Children by Jennifer Trachtenberg.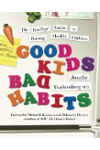 Continue Learning about Fire Safety