Let your local fire department know if you might have difficulty escaping from your home in the event of a fire. If you have family members living with you, practice a fire drill at home. Show children how the smoke detector works and what it sounds like. Encourage your children to sleep with their doors closed; doing so will buy them time by keeping the smoke and heat out of the room in the event of a fire. Be sure to discuss how important it might be to run to a neighbor's house to get help and call the fire department, emphasizing that leaving the house to get help would not mean they are abandoning their pets or family members. Contact your local fire department for more information on home fire safety.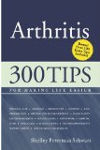 More About this Book
Arthritis
Arthritis: 300 Tips for Making Life Easier is a compendium of tips, techniques, and life-task shortcuts all learned from personal experience. Author Shelley Peterman Schwarz has lived with a chronic...
Continue Learning about Fire Safety