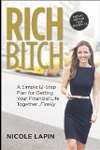 A 401(k) is not right for you if:
You don't have six to nine months of emergency reserves in the bank. Yes, you need to save for retirement, but you need liquidity first. You can't pay for stuff with a 401(k).
Your employer doesn't match your contributions. Many, but not all, do. So check.
You have a significant amount of credit card debt. Paying down debt is a form of long-term savings (because if you don't pay it down now, you'll pay more and save less later) and risk reduction (ack! credit penalties). Tackle the mountain of interest-accumulating bills first.
You want freedom of choice on fees and investment options. Since this is your employer's show, they pick the plan and the fees. You get a few options, but that's it. Even if the fees seem small at the time, they add up, and you may be able to do better if you feel adventurous and studious enough to tackle it on your own.
Nicole Lapin is an Accredited Investment Fiduciary and personal finance expert appearing on the TODAY show and MSNBC, among others.
Excerpted from: RICH BITCH, by Nicole Lapin. Copyright © 2015 Nicole Lapin. Rich Bitch is a trademark used under license from Nothing but Gold Productions. Inc. Published by Harlequin. Reprinted with permission. Buy the book.