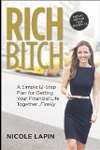 A 401(k) is essentially a retirement plan established by employers. If you're at a company that has one, you can make contributions before the money hits your paycheck, and it's invested in an account with your name on it. People get really excited by a 401(k) because sometimes an employer can make a matching contribution to your account, which is like getting free money.
One of the most awesome parts of 401(k)s is that any money you contribute goes in before taxes and grows until you need it. You do pay tax when you take the money out. Don't think it's tax-free. (If you take it out before you're 59 ½ -- the number that the IRS came up with -- you have to pay penalty fees as well.) So while you might be bummed to be taking home less dough, you're giving that money to the Future You instead of Uncle Sam.
Nicole Lapin is an Accredited Investment Fiduciary and personal finance expert appearing on the TODAY show and MSNBC, among others.
Excerpted from: RICH BITCH, by Nicole Lapin. Copyright © 2015 Nicole Lapin. Rich Bitch is a trademark used under license from Nothing but Gold Productions. Inc. Published by Harlequin. Reprinted with permission. Buy the book.