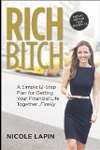 Don't sign up for overdraft protection. By law, you now have to opt in if you want to have the bank cover an overdraft charge when you don't have money in your account to pay for your purchase -- and then, of course, they charge you a fee. Don't do this. If you don't have the money, you'll likely not have enough to pay the fee. Even if you do, the principle of overdraft protection doesn't sit well with me. It's basically a quickie loan to you in exchange for an exorbitant fee. It might be embarrassing in the line for coffee when your card doesn't go through, but a $35 fee for that $2 Danish just ain't right. If you're spending $37 for a Danish, it had better be for several dozen of them.
Nicole Lapin is an Accredited Investment Fiduciary and personal finance expert appearing on the TODAY show and MSNBC, among others.
Excerpted from: RICH BITCH, by Nicole Lapin. Copyright © 2015 Nicole Lapin. Rich Bitch is a trademark used under license from Nothing but Gold Productions. Inc. Published by Harlequin. Reprinted with permission. Buy the book.