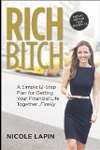 You should check your credit report once a year. It's like having an annual financial physical. Your score is docked the more it is checked by others (a.k.a. banks), not by you. Go to town if you want, but you shouldn't be that hypochondriac who is in the doctor's office every day. Once per year is fine. And free!
There are three official credit reporting agencies: Experian, Equifax and Transunion. Each one provides a yearly free report by law. Note, however, that the report doesn't tell you your numeric score. If you want the separate agencies' scores, or your overall FICO score -- an average of the three -- you have to pay for it. That said, if you apply for a loan, you can ask the lender for a copy of the report and FICO score they pulled, so you don't have to pay for them yourself.
You've probably seen a ton of gimmicks -- catchy commercials or random pop-up ads -- or seemingly official sites when you do a Google search for "credit report." But there is only one that offers truly free reports. It's annualcreditreport.com. (Just keep in mind that while you can always get this yearly report for free, most of the credit bureaus charge a one-time fee of $5 to $15 to give you your credit score.) Again, you don't really need more than the free official reports you get yearly. But continuing with my doctor analogy, if something bad happens, you should go back in for a visit. That means if you've had your card stolen or you shopped at a place that was hacked (like Target was in late 2013, putting an estimated 40 million customers' credit info at risk), then go back for another credit check to make sure everything is kosher.
Nicole Lapin is an Accredited Investment Fiduciary and personal finance expert appearing on the TODAY show and MSNBC, among others.
Excerpted from: RICH BITCH, by Nicole Lapin. Copyright © 2015 Nicole Lapin. Rich Bitch is a trademark used under license from Nothing but Gold Productions. Inc. Published by Harlequin. Reprinted with permission. Buy the book.