Where can I get help paying for my insurance premiums and co-payments?
Co-pay programs provide financial assistance for certain health care costs to patients who qualify financially and medically. They include:

American Kidney Fund
CancerCare
Candlelighters Childhood Cancer Foundation
Caring Voice Coalition, Inc.
Chai Lifeline
Chemocare.com
Chronic Disease Fund, Inc. (CDF)
Geriatric Services of America
HealthWell Foundation
Leukemia and Lymphoma Society
MEDBANK of Maryland, Inc.
National Children's Cancer Society
National Organization for Rare Disorders
Needy Meds
Patient Access Network Foundation (PAN)
Patient Advocate Foundation Co-Pay Relief
Patient Services Incorporated
The Center for Medicare Advocacy

Continue Learning about Financial Health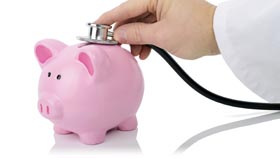 Money worries can make stress levels soar, putting you at risk for serious health problems. Use these expert tips to improve your bottom line and stress less.