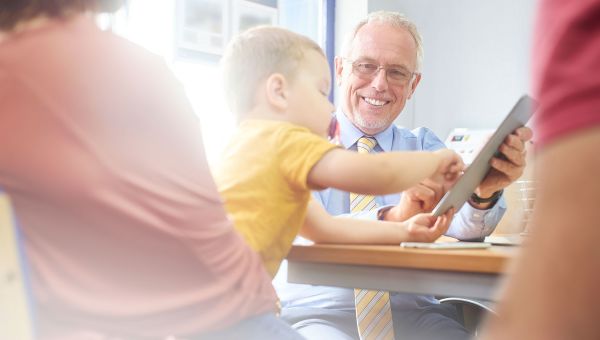 Achieve your financial goals, regardless of your budget.
Whether you're just starting out on your investing journey or you've accumulated a sizeable nest egg, chances are you've considered seeking help from a financial professional. But perhaps you aren't sure where to start—or if you can even afford it.
Relax. Working with a financial advisor isn't just for the rich and financial help is not a one-size-fits-all proposition. Armed with a bit of information, you can find the assistance you need at a price that fits your budget.
When should you work with a financial specialist?
Less than 50 percent of Americans are saving money towards a specific goal, and 30 percent aren't confident about saving for retirement. If this describes you, it may be time to seek the expertise of a financial professional who can help you plan to reach important goals. This advisor can also help during any major life change that may affect your financial situation, such as divorce, the death of a spouse or when you receive a large inheritance.
Types of financial professionals
There are many kinds of advisors available to help you make money decisions. Some big ones include:
Registered representatives: Some financial professionals primarily sell products—such as annuities or insurance policies—and earn a commission when you make a purchase.
Financial advisors: While a registered representative can help you with transactions, most of us want and need a little financial guidance. If you fall in this category, choose a fee-only advisor who adheres to high ethical industry standards and looks out for your best financial interest. In other words, someone who has a fiduciary responsibility to you and is not promoting products or services you may not need. Choose a financial advisor who is a Registered Investment Advisor or Investment Advisor Representative or one who has completed rigorous financial training and earned a designation, such as Certified Financial Planner (CFP), Certified Public Accountant (CPA)/Personal Financial Specialist (PFS) or Chartered Financial Consultant (ChFC).
Money managers: A money manager is a financial advisor who makes investment decisions on your behalf.
Robo advisors: Automated investment services use computer programs to help you make investment decisions. Some services are strictly automated, while others have financial professionals who also provide some guidance. This may be a good option if you're just starting out and your finances are not complicated. InvestorJunkie and NerdWallet both highly rate Wealthfront, one of many robo advisors.
Regardless of which route you go, make sure there are no unexpected costs, such as set up, maintenance or termination fees. Finally, make sure your planner has a clean regulatory record by visiting the Securities and Exchange Commission's action lookup feature and check his or her background and experience at the Financial Industry Regulatory Authority.
What type of help do you need?
If have an occasional or one-time consultation—you need help setting up a long-term investment strategy, want someone to check in with periodically as you manage your own investments, or need to create an estate plan, for example—it may be cost effective to pay an advisor by the hour or by the project. Expect to pay about $150 to $300 per hour to meet with a financial planner, or to spend a couple thousand dollars for a comprehensive financial plan.
Once you begin amassing sizeable financial assets, you may want a money manager to provide hands-on, ongoing portfolio management of your investments and make investment decisions for you. Financial planners generally charge a percent of assets, typically 0.5 to 2 percent, to do this. Many brokers offer portfolio management for clients who reach a certain financial threshold, say $250,000 or $500,000. Keep in mind: Although 1 or 2 percent may sound like a lot, with this arrangement, your advisor has skin in the game, so to speak, to grow your portfolio. Furthermore, some planners decrease the percent charged as your account grows.
Or, you may need a complete financial plan—a roadmap—for your entire financial life, including setting goals (such as saving for retirement), creating a budget, establishing an emergency fund and devising an investment strategy. A financial planner can help you create a holistic financial plan.
How do you find a financial planner?
The following organizations offer online, searchable databases of financial planners. In most cases, you can narrow your search by criteria, such as location, type of clients served, fee structure or specialty area (for example, retirement planning).
The National Association of Personal Financial Advisors is a network of 3,000 fee-based financial professionals who commit to a yearly fiduciary oath and subscribe to a code of ethics.
The CFP Board is a non-profit organization that promotes professional standards in personal financial planning. The CFP Board also lets you verify a planner's certification status.
The Garrett Planning Network is a national network of hourly, fee-based advisors.
Don't forget to ask people you trust for recommendations.
Picking the right financial planner is very personal decision. A large financial practice will have a team of support personnel, including someone you can call if your planner is out. However, you may be more comfortable working with an independent professional. The important thing is to find someone you're comfortable with, someone who understands and is willing to get to know you, and someone who explains things clearly.
Don't just go with the lowest cost financial planner. A planner who charges more may ultimately do a better job helping you grow your personal wealth or saving money in expenses over the long term.
Finally, to get the most out of your financial planner, be prepared before you meet. Make a list of all your assets and liabilities, income and short- and long-term financial goals. Know your comfort level with risk. Above all, ask questions and stay involved—because while a planner can be crucial to your ongoing financial health, it's ultimately your money.
Medically reviewed in August 2018.