Fibromyalgia symptoms are nonspecific. This means that many of the symptoms seen with fibromyalgia are also present in other medical conditions. Your doctor really can't tell you that you have fibromyalgia until he has made certain that you don't have other health issues which mimic fibromyalgia. These are:
Bone and joint diseases: ankylosing spondylitis, osteoarthritis, osteomalacia, polymyalgia rheumatic, rheumatoid arthritis
Autoimmune disorders: Sjogren's syndrome, systemic lupus erythematosus
Infections: chronic hepatitis C, tuberculosis
Hormone Disorders: diabetes, thyroid disease, parathyroid disease
Cancer: multiple myeloma, metastatic cancer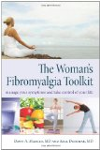 Continue Learning about Fibromyalgia
Fibromyalgia is a chronic condition which has no cure. Development of a self-management plan, which may include medications and exercises, can help you reduce the occurrence of symptoms and flares that are associated with fibromya...
lgia. Learn more from our experts about fibromyalgia.
More