A common myth about fibromyalgia is that the condition isn't real; that the symptoms are all in a patient's head. Watch family medicine physician Jennifer Caudle, DO, explain how fibromyalgia is indeed a real condition with valid diagnostic criteria.
A common myth about fibromyalgia is that patients are depressed, and that's why they are feeling pain and exhaustion. In this video, rheumatologist Natalie Azar, MD, explains that fibromyalgia is a pain condition, not a mental or mood disorder.
Common myths about fibromyalgia are:

Myth 1: Fibromyalgia is very rare.
Fact: Fibromyalgia affects 2-3 of every 100 adults in the Americas and Europe.

Myth 2: Fibromyalgia only affects women.
Fact: Fibromyalgia affects women 3 times more often than men, but men can also be affected.

Myth 3: Fibromyalgia is something only young or middle-aged women complain about.
Fact: The average age when women start experiencing the symptoms of fibromyalgia is approximately 45; however, fibromyalgia can persist as women grow older.

Myth 4: Fibromyalgia is just a little pain problem.
Fact: Women with fibromyalgia typically have a wide range of troublesome symptoms that can significantly affect their work, family, and enjoyment of life. Fibromyalgia symptoms are often quite disabling.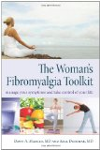 Continue Learning about Fibromyalgia