Fibromyalgia is difficult to diagnose compared with other chronic pain conditions and symptoms can vary for women. In this video, Rebecca Swainston, NP, from West Valley Medical Group – Middleton, explains more about fibromyalgia.
In an interesting study conducted at the Rehabilitation Foundation Limburg in the Netherlands, scientists compared quality of life in people with fibromyalgia to those with other chronic pain problems. As you might guess, quality of life was substantially lower in the fibromyalgia group compared with healthy people without pain. What was perhaps more surprising was that quality of life was worse with fibromyalgia than with other common painful conditions, such as chronic low back pain and rheumatoid arthritis.
The comparison with rheumatoid arthritis was especially interesting because rheumatoid arthritis also causes widespread pain and a range of other symptoms, including stiffness and fatigue. Unlike fibromyalgia, people with rheumatoid arthritis develop joint damage and deformities over time, so they may have a highly visible disability. Despite "looking worse," however, people with rheumatoid arthritis are actually less affected by their symptoms than are those with fibromyalgia.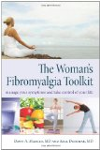 Continue Learning about Fibromyalgia

Fibromyalgia is a chronic condition which has no cure. Development of a self-management plan, which may include medications and exercises, can help you reduce the occurrence of symptoms and flares that are associated with fibromya...
lgia. Learn more from our experts about fibromyalgia.
More