The most effective supplements for fibromyalgia include S-adenosyl methionine and melatonin, taken at bedtime. S-adenosyl methionine is also called SAMe. This supplement affects a number of brain chemicals important for reducing the symptoms of fibromyalgia, including norepinephrine, dopamine, and serotonin. Research studies show improvements in pain, fatigue, and depression in people with fibromyalgia who use SAMe.
Melatonin is a hormone secreted by the pineal gland in the brain, and it is important for healthy sleep. A recent, well-designed study published in the Journal of Pineal Research found that melatonin was as effective as the antidepressant fluoxetine for reducing fibromyalgia pain, sleep disturbance, fatigue, and disability. However, fluoxetine is one of the less effective antidepressants for fibromyalgia.
Supplementation with carnitine, chlorella, coenzyme Q10, and omega-3 fatty acids may help reduce some fibromyalgia symptoms.
Always talk to your healthcare provider before taking any supplement and let her know what supplements you're currently using.
A number of research studies have tested which supplements are likely to help reduce fibromyalgia symptoms. The treatments shown to help people with fibromyalgia include:
Vitamin C, 500-1,000 mg daily
Vitamin D replacement when blood levels of vitamin D levels are tested as low; vitamin D dose depends on the level of vitamin D deficiency
S-adenosyl methionine, also called SAMe, 800 mg daily
Melatonin, 3 mg taken 30 minutes before bed
Freshwater algae Chlorella pyrenoidosa, 10 mg tablet plus 100 mL liquid daily
Coenzyme Q10, 100-200 mg daily
Carnitine, 1,000-1,500 mg daily
Fish oil, 1,500 mg three times daily
Some studies suggest that the following supplements might be helpful, but studies in people with fibromyalgia haven't been done yet:
Magnesium
Probiotics for digestive symptoms
Zinc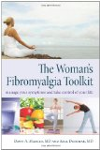 A multivitamin may be a good idea for people with fibromyalgia, especially one with vitamins C, E and D. Vitamins C and E are powerful antioxidants that appeared to quell oxidative stress and subdue pain in a small study of fibromyalgia patients. Some studies have found that a significant number of fibromyalgia patients are deficient in vitamin D -- and that boosting levels may help improve fibromyalgia-induced anxiety and depression. Similar studies suggest a connection between chronic widespread musculoskeletal pain and low levels of vitamin D. Some research has shown that certain amino acid supplements may help with everything from mood to pain.
Continue Learning about Fibromyalgia Treatment