Fibromyalgia patients never need worry about being bored by limited treatment options. Family medicine specialist Dr. Jennifer Caudle describes the wide range of therapies that are effective.
Effective treatment is available for 91% of cases. This doesn't mean a cure in all cases (although this does occur in some cases, including in my own case) but rather marked improvement in 50% and significant improvement in another 41%.
My book (From Fatigued to Fantastic!) and website discuss over 300 helpful treatments. More importantly, tools are available to help you know which ones are most likely to be useful in your individual case.
Opana is oxymorphone. It is approved to be used for moderate to severe pain or anxiety. Fibromyalgia is treated using many of the medications that you are already taking. Non-medication therapies are also recommended. Some examples are: light aerobics, water therapy, breathing exercises and yoga, just to name a few. Before starting anything, though, discuss any changes to your routine with your physician. Some research suggests that cherry juice may have some benefits for runners to decrease pain after a race. Peptide shots are being studied for allergic diseases, to decrease the allergic reaction. Herbal remedies, such as tart cherry extract and peptide shot, have not been been approved by the FDA and the safety and efficacy of these products are not well known. Do not start any new medications or herbal supplements without first talking to your doctor.
Treatment options for fibromyalgia:
apply moist heat twice daily on affected areas
do neck and back exercises
do stretches to keep your muscles flexible
walk daily to improve endurance and end fatigue (start slowly and increase gradually over time)
work on quality of sleep and stress control
lose weight
talk to your doctor about medications to ease pain and help with anxiety and sleep problems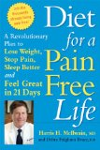 More About this Book
Diet for a Pain-Free Life: A Revolutionary Plan to Lose Weight, Stop Pain, Sleep Better and Feel Great in 21 Days, ADA...sound nutritional advice...do-able, delicious..a godsend to pain sufferers.
Do you wake up each morning aching with joint or muscle pain? Have you been trying to lose stubborn belly fat for years? Do you wish you could be active without pain medications? Look no further: Diet for a Pain-Free Life is the simple-to-follow, doctor-designed solution to improve your health. Leading rheumatologist, Dr. Harris McIlwain shares his revolutionary prescriptions in this first proven lifestyle plan that will help you drop pounds and decrease pain at the same time. Losing just 10 pounds can reduce chronic pain by as much as 90 percent. Learn the secrets of how to: Eat Well and Lose Weight with the Pain-Free Diet—even if you've never been able to succeed on a diet before Exercise Your Pain Away—even if you dislike traditional exercise, or if your pain makes movement difficult Stop the Stress-Pain Connection—even if you're overworked and easily stressed Improve the Quality of Your Sleep—even if you suffer from insomnia or other sleep conditions Those who have followed Dr. McIlwain's program have been able to resume the activities they love and transform their lives in as few as 21 days—now you can too.
Because no underlying disease process is known, medical treatment is aimed at treating symptoms of fibromyalgia. It can involve muscle relaxants, medications to relieve pain, and low-dose antidepressants to help mood, fatigue, and sleep. Three drugs have been approved expressly for treating fibromyalgia: pregabalin (Lyrica), an anti-seizure medication that blocks pain signals from the central nervous system, and the antidepressants duloxetine (Cymbalta) and milnacipran (Savella).
One of the most effective treatments for fibromyalgia is to take very good care of yourself. A routine of gentle stretching exercises and low-impact aerobic exercise, like swimming or cycling, is very important in relieving stiffness and preserving muscle tone. Adequate sleep, naturally, is also essential to minimizing fatigue. Many women with fibromyalgia have benefited from acupuncture and massage therapy as well as from practicing biofeedback, relaxation, and stress reduction. Finally, the value of psychological support can't be underrated when dealing with an often puzzling chronic condition. You may find a fibromyalgia support group in your area through the National Fibromyalgia Association.
If coping with your fibromyalgia has got you down, here's a reason to be optimistic: There are many treatment options for this frustrating condition. Getting relief may simply be a matter of finding the one that works for you.
Medications make up the foundation of most treatment plans for fibromyalgia. There are three drugs approved by the Food and Drug Administration for treating the condition. They include duloxetine (Cymbalta), milnacipran (Savella), and pregabalin (Lyrica). Other medicines that may be prescribed for fibromyalgia include:
Pain relievers - These may include over-the-counter drugs such as ibuprofen (Advil and others) and acetaminophen (Tylenol) or stronger prescription medications.
Antidepressants - Some drugs designed to treat depression seem to relieve fibromyalgia symptoms, too
Benzodiazepines - These prescription medications can help relax tense muscles and ease other fibromyalgia symptoms.
Your doctor may prescribe other medications to help you control fibromyalgia symptoms. Then again, there's a lot you can do on your own to manage this condition. Making certain lifestyle changes, such as exercising more and improving your sleep habits, can help control symptoms. Many different forms of alternative and complementary medicine, ranging from massage to herbal remedies, have been used to treat fibromyalgia, too. If you decide to try an alternative treatment for fibromyalgia, tell your doctor.
Continue Learning about Fibromyalgia Treatment