A combination of medication and stretching exercises can be used to treat muscle spasms and fibromyalgia. Often, pain and muscle spasms occur at the same time with fibromyalgia. These spasms usually occur in the parts of your body that you use the most: your neck, shoulders and feet.

There are medications available to treat muscle spasms. Talk to your doctor or healthcare provider about options, both prescription and non-prescription, that can help.

If you experience a sudden muscle spasm, gentle stretching can help. A physical therapist can teach you proper techniques for gentle stretching so that you can practice at home.
Muscle spasms can be a real problem if you have fibromyalgia. Some people complain that their muscles feel twitchy or crampy. Let your doctor know if muscle spasms are bothering you. In general, it's wise to get plenty of exercise, take warm baths, and consider getting massages to help with muscle symptoms. If muscle spasms persist, your doctor may prescribe medications called muscle relaxants.

Continue Learning about Fibromyalgia Treatment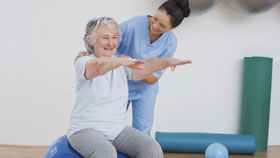 Because no underlying disease process is known, doctors aim to treat the symptoms of fibromyalgia. A healthy diet and getting regular, low-impact exercise like yoga, walking or water aerobics are key to maintain your health with f...
ibromyalgia. Your doctor may also prescribe pain medication and recommend support groups or counseling.
More