Every case of fibromyalgia is unique, so let your symptoms be your guide to determining how often you need to see your doctor. If your fibromyalgia symptoms are under control, you may only need routine check-ups. But if you are struggling with pain, fatigue, and other persistent symptoms of fibromyalgia, more frequent office visits may be necessary. Fibromyalgia can be a challenge to treat, but receiving the proper medical care is essential for your quality of life. There are new treatments available for fibromyalgia, so see your doctor as often as necessary to get control over your symptoms.
Continue Learning about Fibromyalgia Treatment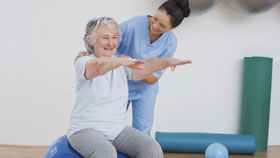 Because no underlying disease process is known, doctors aim to treat the symptoms of fibromyalgia. A healthy diet and getting regular, low-impact exercise like yoga, walking or water aerobics are key to maintain your health with f...
ibromyalgia. Your doctor may also prescribe pain medication and recommend support groups or counseling.
More