Pain medicine is a multidisciplinary medical subspecialty. Doctors who practice this type of medicine come from specialties such as neurology and physical medicine and rehabilitation. Pain medicine doctors are experts in treating painful disorders. Pain medicine doctors can also pull together a team of other experts including doctors, nurses, physical therapists, occupational therapists, and psychologists who can help develop a tailored pain-management plan.
Continue Learning about Fibromyalgia Treatment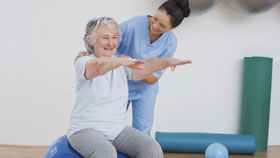 Because no underlying disease process is known, doctors aim to treat the symptoms of fibromyalgia. A healthy diet and getting regular, low-impact exercise like yoga, walking or water aerobics are key to maintain your health with f...
ibromyalgia. Your doctor may also prescribe pain medication and recommend support groups or counseling.
More