Cold packs or cold towels can help to relieve fibromyalgia pain. However, many people with fibromyalgia find that heat treatment is an effective pain treatment, too. If you prefer cold therapy, try applying ice packs, cold packs, or cold towels directly to the part of your body that hurts. Ask your doctor how these and other simple pain management strategies can help you control your fibromyalgia symptoms.
Ice acts as a local anesthetic and may allow you to stretch your muscles with less pain. It's not the ice that's helping as much as the stretching that the ice allows you to do, which can reduce knots and help you feel better. Do not stretch muscles to the point of pain.
Continue Learning about Fibromyalgia Treatment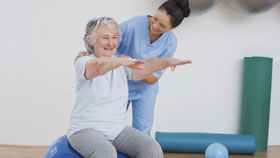 Because no underlying disease process is known, doctors aim to treat the symptoms of fibromyalgia. A healthy diet and getting regular, low-impact exercise like yoga, walking or water aerobics are key to maintain your health with f...
ibromyalgia. Your doctor may also prescribe pain medication and recommend support groups or counseling.
More