If you have fibromyalgia, you may find that you are particularly sensitive to cold and heat. In particular, you may feel cold at temperatures that others find comfortable. Not everyone with fibromyalgia has these symptoms, but they are not uncommon. Relaxation techniques, especially autogenic training, have been shown to help people with fibromyalgia feel warmer in their limbs. There are no specific medical treatments for temperature sensitivity, but treatment that reduces your fibromyalgia symptoms, including pain, may also help reduce your sensitivity to heat and cold.

You can also develop coping mechanisms, such as bringing an extra layer of clothing to work or on trips, and making sure you don't sit next to drafty windows. If you've been diagnosed with fibromyalgia, it's your right to have a workplace that accommodates your medical needs, including a temperature that is comfortable for you.

Continue Learning about Fibromyalgia Treatment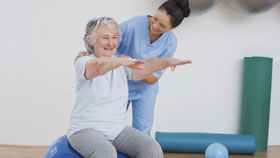 Because no underlying disease process is known, doctors aim to treat the symptoms of fibromyalgia. A healthy diet and getting regular, low-impact exercise like yoga, walking or water aerobics are key to maintain your health with f...
ibromyalgia. Your doctor may also prescribe pain medication and recommend support groups or counseling.
More