People with fibromyalgia need to understand the important role that stress can play in causing and worsening this condition. Doctors have observed that many people who develop fibromyalgia experience symptoms for the first time following a highly stressful event, such as a car accident or undergoing surgery. Likewise, psychological stress can often cause fibromyalgia symptoms to worsen. For many people who have fibromyalgia, avoiding stress and practicing relaxation techniques such as meditation may help to keep symptoms under control.
Stress is part of life. Like death, taxes, and Katy Perry songs on the radio, it's pretty much unavoidable. If you have fibromyalgia, emotional stress, whether it's from a fight with your spouse or a looming work deadline, can make your symptoms worse. Knowing what causes you to get stressed out -- and how to avoid it, and how cope when you can't -- can help you control your fibromyalgia symptoms.
Continue Learning about Fibromyalgia Treatment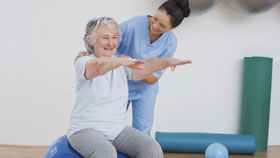 Because no underlying disease process is known, doctors aim to treat the symptoms of fibromyalgia. A healthy diet and getting regular, low-impact exercise like yoga, walking or water aerobics are key to maintain your health with f...
ibromyalgia. Your doctor may also prescribe pain medication and recommend support groups or counseling.
More