Pregabalin (Lyrica) is a drug that was developed to treat epilepsy. It is also helpful for some people with fibromyalgia. Pregabalin works by blocking nerve signals in the brain that transmit pain. It may help to reduce pain, fatigue, and anxiety. It may also help improve sleep.
This answer was adapted from Sharecare's award-winning AskMD app. Start a consultation now to find out what's causing your symptoms, learn how to manage a condition, or find a doctor.
Continue Learning about Fibromyalgia Treatment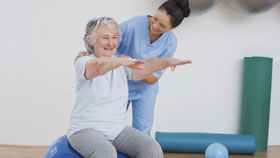 Because no underlying disease process is known, doctors aim to treat the symptoms of fibromyalgia. A healthy diet and getting regular, low-impact exercise like yoga, walking or water aerobics are key to maintain your health with f...
ibromyalgia. Your doctor may also prescribe pain medication and recommend support groups or counseling.
More