You will know if your fibromyalgia treatment is working based on how often you have symptoms, how severe symptoms are, and how much it affects your life. Watch family medicine physician Jennifer Caudle, DO, explain how to get optimal treatment.
You can tell your fibromyalgia treatment is working if you are feeling better and have relief from symptoms. Watch as rheumatologist Natalie Azar, MD, explains how patient feedback and routine tests help measure treatment success for fibromyalgia.
To determine whether your fibromyalgia treatments are helpful, you first have to define what helpful means. Everyone wants treatment that relieves all of their symptoms -- they'd like a cure. Unfortunately, that's not realistic.

Clinically meaningful improvement is the amount of relief a person with fibromyalgia needs to experience before she believes that she is benefitting from a treatment plan. In general, pain needs to improve by approximately 30% before the change is considered meaningful. On a 0-10 pain-rating scale -- on which 0 equals no pain and 10 equals unbearable pain -- your pain would need to decrease by approximately 3 points. Your pain will not be completely gone with this level of change, but it might represent a decrease from severe to moderate.

Researchers from Oregon Health & Science University evaluated the Fibromyalgia Impact Questionnaire (FIQR) to determine how much of a change represents meaningful improvement. They found that a decrease of 14% was needed to be meaningful. For example, if your FIQR score was 65 before treatment, a drop of 9 points (to a score of 56) would be a 14% improvement. This is a more moderate, and noticeable, impact on fibromyalgia.

Sleep studies sometimes define clinically meaningful insomnia as taking at least 30 minutes to get to sleep, waking up for more than 30 minutes during the night, or waking up in the morning at least 60 minutes earlier than planned. A clinically meaningful improvement would be no longer meeting these conditions. Clinically meaningful improvement has also been defined when using the Insomnia Severity Index. In general, a 6-point reduction in the Insomnia Severity Index is considered clinically meaningful.

If you rate your fatigue (weariness, tiredness) over the past week on a scale from 0 (no fatigue) to 10 (fatigue as bad as you can imagine), a decrease of at least 1 point is considered clinically meaningful.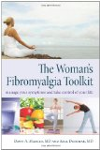 Continue Learning about Fibromyalgia Treatment