There is no cure for fibromyalgia, but it isn't a life-threatening condition, and it won't cause any permanent damage. Even better, it can often be controlled with the proper treatment, and many cases get better as time goes by. Regular exercise and a combination of medications can help minimize the symptoms associated with fibromyalgia. Keeping stress levels low and staying on a regular sleep schedule can make a big difference as well. Researchers continue to study fibromyalgia in hopes of learning more about the disorder and some day finding a cure.
Fibromyalgia is a chronic condition that can be successfully managed but, at this time, there is no known cure. Multi-disciplinary approaches for management and relief of symptoms are often recommended. Medications, cognitive behavioral therapies and gentle exercise are the most common combinations. In partnership with a healthcare provider, development of self-management strategies and long-term health goals may reduce the chronic symptoms and the frequency, duration and intensity of periodic flares (rapid increase of symptoms).
Continue Learning about Fibromyalgia Treatment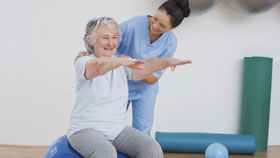 Because no underlying disease process is known, doctors aim to treat the symptoms of fibromyalgia. A healthy diet and getting regular, low-impact exercise like yoga, walking or water aerobics are key to maintain your health with f...
ibromyalgia. Your doctor may also prescribe pain medication and recommend support groups or counseling.
More