Depression and anxiety are very common in people with fibromyalgia. The fibromyalgia itself -- which causes intense chronic pain over much of your body, interferes with sleep, and affects your ability to concentrate -- can eventually lead to depression. It's an incredibly frustrating condition, so it's not surprising that it can cause depression. It's also possible that the chemical imbalances in your brain that bring on pain sensitivity and other fibromyalgia symptoms can also cause mood changes.

Whatever the cause, if you experience low moods that last for a few weeks, talk to your doctor about getting help. Some antidepressants may help with fibromyalgia pain and depression. Certain kinds of therapy, such as cognitive behavioral therapy, have been shown to be particularly effective in helping people with fibromyalgia, reducing your chances of developing depression.
Continue Learning about Fibromyalgia Treatment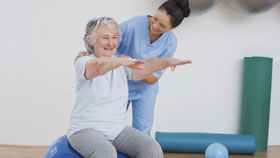 Because no underlying disease process is known, doctors aim to treat the symptoms of fibromyalgia. A healthy diet and getting regular, low-impact exercise like yoga, walking or water aerobics are key to maintain your health with f...
ibromyalgia. Your doctor may also prescribe pain medication and recommend support groups or counseling.
More