Heat can be an effective treatment for some fibromyalgia symptoms such as pain and stiffness as well as stress. Ask your doctor how heat therapy might help you. Approaches include simple steps such as using heat packs and taking warm baths, and hydortherapy.
Applying heat to muscles that hurt can make it easier to gently stretch them. If you try to stretch a muscle that has tender points, the muscle may recoil and will hurt even more. Applying heat, such as from a heating pad, can make it much easier to stretch those muscles without pain. Never stretch to the point of pain.

Continue Learning about Fibromyalgia Treatment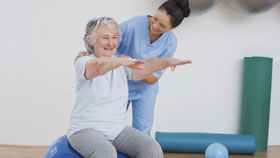 Because no underlying disease process is known, doctors aim to treat the symptoms of fibromyalgia. A healthy diet and getting regular, low-impact exercise like yoga, walking or water aerobics are key to maintain your health with f...
ibromyalgia. Your doctor may also prescribe pain medication and recommend support groups or counseling.
More