Finding the right doctor or specialist to diagnose and treat fibromyalgia is an important first step in finding an effective medication treatment plan. The second step is for the patient to develop a close relationship with his doctor. The doctor should have experience working with fibromyalgia patients, take time to listen and consider the patient an equal member of the treatment team.
Take the RealAge Test!
There are basically three types of medication that can be used to treat fibromyalgia. Painkillers, both over-the-counter and prescription, can help ease pain for some people, but they do not work for everyone. Your doctor may suggest using a nonsteroidal anti-inflammatory drug, such as ibuprofen, along with a prescription painkiller like tramadol in order to get the best results. Anti-seizure drugs have proven effective at treating pain in fibromyalgia patients as well. Aside from treating pain, you may also need help sleeping. Antidepressants can often help with both, easing pain and helping you get a full night's sleep.
Medications can be used to treat the disordered sleep, hormonal deficiencies, infections, nutritional deficiencies, neurotransmitter deficiencies, and a host of other issues present in fibromyalgia. There are currently three medications that have been approved by the FDA for treatment of fibromyalgia pain, and these work by settling down the pain signal in the brain and spinal cord as well as decreasing nerve pain. Many other medications can also help pain, but are talked about and researched less as they are available in low-cost generics.
Since 2007 the Food and Drug Administration has approved three fibromyalgia specific medications: Lyrica, Cymbalta and Savella.

Lyrica (pregabalin) is an anti-epileptic medication. On average, approximately one-third of people in clinical trials treated with this medication experienced about a 50% reduction in clinical pain.

Cymbalta (duloxetine) and Savella (milnacipran) are both serotonin-norepinephrine reuptake inhibitors (SNRIs) that work to balance the person's serotonin and norepinephrine neurotransmitters, both of which are known to be low in people with fibromyalgia. Both of these medications were shown to be effective in treating and lowering fibromyalgia clinical pain in approximately 30% of people in clinical trials.

Opioid analgesics (propoxyphene, codeine, morphine, oxycodone, methadone) may provide worthwhile pain relief in a subgroup of severely afflicted people, but people with fibromyalgia seem especially sensitive to opioid side effects (nausea, constipation, itching and mental blurring) and often decide against the long-term use of these drugs. Two particularly useful weak opioids in the management of FM pain are tramadol (Ultram) and the combination of tramadol with acetaminophen (Ultracet). Neither of these two medications is a FDA scheduled drug (i.e. they have minimal addiction potential).

Particularly painful areas often may be helped for a short time (two to three months) by trigger point injections. This involves injecting a trigger point with a local anesthetic (usually 1% Procaine) and then stretching the involved muscle with a technique called spray and stretch. It should be noted the injection of a tender point is quite painful (indeed, if it is not painful the injection is seldom successful). After the injection, there is typically a lag of two to four days before any beneficial effects are noted.
A number of medications can be used to help relieve a range of fibromyalgia symptoms. For example, antidepressants may reduce pain, sleep disturbance, depression, and some digestive symptoms. You may also need to use specific therapies for some symptoms, such as severe depression or anxiety, migraine, or irritable bowel syndrome (IBS).
The most important thing to remember about medications for fibromyalgia is that even the most effective ones offer modest benefit at best:
Effective medications should be expected to reduce fibromyalgia pain and other symptoms by about 30%.
Because symptom reduction with drugs is modest to moderate, medications should generally be used in conjunction with effective nondrug treatments.
The most effective medications for fibromyalgia are antidepressants and some neuromodulating therapies. Both types of drugs work by correcting chemical imbalances in nerve chemicals within the nervous system, to help reduce fibromyalgia symptoms.
Antidepressants and neuromodulating therapies reduce pain and poor sleep. Antidepressants are more beneficial for also reducing fatigue and mood problems.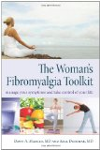 Continue Learning about Medications to Treat Fibromyalgia