There are great treatment options for fibromyalgia, especially if there is a comprehensive plan for using different treatments at the same time. In this video, family medicine specialist Jennifer Caudle, DO, discusses some options that can help.
Pain medications are notoriously ineffective for reducing fibromyalgia pain. A review published in the Scandinavian Journal of Rheumatology found that treatment with analgesic medications provided no better pain reduction than treatment with a placebo (or sugar pill). Analgesics, such as acetaminophen and nonsteroidal anti-inflammatory drugs (NSAIDs), as well as strong opioid (narcotic) pain medications, are generally ineffective for reducing fibromyalgia pain. One analgesic medication that has been shown to help reduce fibromyalgia pain is a combination of tramadol (Ultram) 37.5 mg and acetaminophen 325 mg.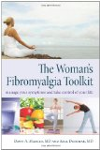 Pain medicines can help some people who have fibromyalgia pain. For example, drugs for fibromyalgia treatment, such as Cymbalta, Lyrica or Savella, can reduce pain symptoms by 20% to 25%. This means that if you have fibromyalgia and record your pain at a level 10 on a scale of 1 to 10, you can expect your pain level might drop to an 8 with medication.
Studies show that medicines for fibromyalgia can help improve symptoms of:
fatigue
trigger point pain
general pain
sleep problems
Medicine affects each person differently, however, so you may experience more or less relief.
Continue Learning about Medications to Treat Fibromyalgia