As an alternative therapy to promote natural healing, acupuncture is earning a growing respect from the traditional medical community. However tempting acupuncture may sound, you may hesitate due to fear of the unknown. Get your doctor's blessing first, and then ask the following questions to find a well-qualified acupuncturist near you.
• Do you hold a current license to practice acupuncture and oriental medicine in this state?
• Are you an NCCAOM (National Certification Commission for Acupuncture and Oriental Medicine)-certified acupuncturist?
• What has been your experience with treating people with fibromyalgia?
• Besides acupuncture, what other modalities of Oriental medicine do you use in cases such as mine?
• Can you please tell me about your initial examination?
• What makes acupuncture so important to you that you chose to become a professional acupuncturist?
• What is your greatest strength or special interest as an acupuncturist?
• How do most of your patients find you?
• Do I fill out my own insurance forms, or does your office do that?
• Are you interested in treating me? Why?
• Do you know where the eighteen fibromyalgia tender points are?
Acupuncture helps your body find the potential to heal itself. This process requires a great deal of knowledge and the skillful hands of an experienced and licensed acupuncturist. As Dr. Tess Hahn, the NCCAOM's 2008 Chair of the Board of Commissioners and an Idaho-based professional acupuncturist, concludes, "There is 'cookbook acupuncture' for very simple things, and then there's true Oriental medicine as acupuncture techniques are applied specifically for an individual's health pattern. The distinction between these two is really key and lies in the diagnosis. A correct initial assessment of what's going on with that person is very important. You want a practitioner who has a very detailed understanding of the patterns of disharmony in the body and treats every patient differently."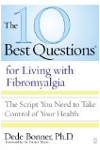 Continue Learning about Acupuncture to Treat Fibromyalgia