Before you begin your search for an acupuncturist, find out if your insurance company covers acupuncture for fibromyalgia symptoms. Ask your insurance company these questions:

• Is this kind of treatment covered in my health-care plan?
• Are there any limits or requirements (like a restriction on the number of visits or the total amount allowed for payments)?
• Can I chose my own acupuncturist or do I have to see someone in your network?
• Do I need a referral from my doctor?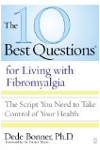 Continue Learning about Acupuncture to Treat Fibromyalgia