Some, though not all, studies on acupuncture in people with fibromyalgia suggest that it may help to manage pain and other fibromyalgia symptoms. In one review of seven studies, researchers found that fibromyalgia patients who had acupuncture treatment experienced a reduction in pain and needed less medication. In another study, fibromyalgia patients who received electroacupuncture (in which needles deliver a mild electric current) had a 70% improvement in pain and sleep quality. Other studies have failed to show that acupuncture offers fibromyalgia patients any benefit.

If you would like to consider using acupuncture as an alternative therapy for fibromyalgia, talk with your doctor or healthcare provider first. Look for a licensed practitioner who has experience treating people wih fibromyalgia.
Acupuncture is helpful for several chronic pain conditions, including musculoskeletal pain in the neck, shoulder, elbow, and low back resulting from soft tissue injuries and arthritis. It may also help relieve tension-type headaches. However, acupuncture does not seem to help reduce the pain associated with fibromyalgia. A recent analysis of data from six well-designed research studies that tested acupuncture in a total of 323 people with fibromyalgia showed that it did not significantly improve pain severity.

Acupuncture has been shown to improve insomnia, although not specifically in people with fibromyalgia. It has also been used to treat irritable bowel syndrome, although benefits have been inconsistent.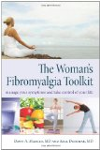 If you want to try acupuncture for relief of fibromyalgia or chronic pain, make sure you get a licensed acupuncturist who uses only disposable needles. Acupuncture tends to be operator dependent, therefore choose a practitioner who has a lot of experience. In addition, there are multiple styles, depending on where the practitioner studied. For instance, Chinese acupuncture depends on larger bore needles and the practitioner may be more aggressive with moving them. Japanese acupuncture uses thinner bore needles with a relatively gentle approach. Find the style that suits your needs. Acupuncture has very few contraindications, and the side effects are small.
Among the many different alternative treatments that have been tried for fibromyalgia, acupuncture may be the one that has been studied the most. So you would think that we'd have a pretty clear idea by now as to whether or not it works. But we really don't. Overall, the results of studies have been mixed. Some seem to suggest that acupuncture–which involves inserting very slender needles into critical points on the body–relieves fibromyalgia pain. But other research suggests the relief may be fleeting, if there's any at all.

Some studies suggest that the most effective form of pin-prick therapy for fibromyalgia may be a variation known as electroacupuncture, in which electrical current is pulsed through the needles. If you decide to try acupuncture for your fibromyalgia symptoms, talk to your doctor.
Continue Learning about Acupuncture to Treat Fibromyalgia