Several other diseases have symptoms that may appear to be like fibromyalgia. These include chronic fatigue syndrome, hypothyroidism, polymyalgia rheumatica, obstructive sleep apnea, rheumatoid arthritis, lupus, Lyme disease, depression, polymyositis, and somatoform disorder. Since fibromyalgia is a diagnosis of exclusion, your healthcare provider will help guide you through the process of determining your diagnosis.
Fibromyalgia is a better actor than Al Pacino and can mimic a variety of health conditions, some serious and some not too serious. That's why your doctor will run important lab tests and take X-rays to rule out serious diseases. Here are some conditions that may mimic the symptoms of fibromyalgia syndrome:
Systemic lupus erythematosus (SLE)
Rheumatoid arthritis
Osteoarthritis
Lyme disease
Hypothyroidism
Chronic fatigue syndrome (CFS)
Restless legs syndrome (RLS)
Anxiety and depression
TMJ (jaw condition)
Irritable bowel disease (IBS)
The symptoms of fibromyalgia syndrome often mimic other common health problems such as arthritis, migraine, and chronic fatigue syndrome (CFS). The deep muscle pain and stiffness of fibromyalgia may be misdiagnosed as a form of arthritis. The constant fatigue may be mistaken as chronic fatigue syndrome. Also, the anxiety, low mood and sleep disturbances may be incorrectly diagnosed as depression or another mood disorder.

Because fibromyalgia syndrome has many signs and symptoms, your doctor will work with you to make an accurate diagnosis and to prescribe a multi-faceted treatment program that may consist of medications, moist heat for deep muscle pain, exercise for conditioning and stress management to help with anxiety and sleep.
The symptoms of fibromyalgia can also be seen in diseases such as polymyalgia rheumatica. This is a disease characterized by pain in the shoulders and hips. It is a serious disease that causes inflammation and can result in blindness. Early rheumatoid arthritis can present with similar symptoms such as joint and muscle pain, headache, and sleep problems. However, there will also be joint swelling.
Osteoarthritis, which is the arthritis due to wear and tear can result in symptoms of joint pain and fatigue. Hypothyroidism, Lyme disease, depression, Lupus, chronic fatigue syndrome, and even sleep apnea can all cause similar symptoms to fibromyalgia. Sometimes there is overlap especially with chronic fatigue syndrome and arthritis.
The fact that fibromyalgia can have symptoms similar to some serious illnesses makes it very important to make sure that you do not have any of those other illnesses before being given the diagnosis of fibromyalgia.
Continue Learning about Fibromyalgia Symptoms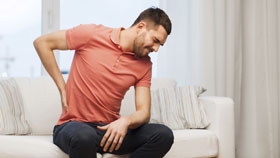 The main symptom of fibromyalgia is aching pain throughout the majority of your body, as well as deep muscle pain, fatigue, sleeplessness and painful tender points. Many people also have coexisting conditions such as depression, s...
tress and anxiety disorders due to the chronic condition.
More