Monitoring fibromyalgia symptoms can provide helpful information to you and your healthcare provider, and identify your most troublesome problem areas. Completing your symptom logs before visiting the doctor and bringing the results with you will help you to more effectively communicate with him. It also means you won't leave your appointment thinking, "Drat. I forgot to tell him about..."

Once you have started a treatment program, complete the logs every week or so to help monitor your progress. Most fibromyalgia treatments take several weeks to produce noticeable effects. Sometimes, it's hard to recognize that you're making progress, especially when improvements occur gradually. Being able to go back several weeks to review your symptoms before treatment can help you decide if your treatment is helping or not. Being able to identify improvements can prevent you from abandoning treatments that might have become more beneficial if you had continued them.

The FibroFatigue Scale was developed by researchers in Sweden. This tool can be used to rate a wide range of common fibromyalgia symptoms. It is a reliable and accurate tool for measuring the severity of fibromyalgia symptoms and changes in symptoms with treatment.

Another tool you can use to keep track of the severity of your symptoms is a simple 0 to 10 scale. This can be used for pain (0 equals no pain and 10 equals unbearable pain), sleep disturbance (0 when sleep is good and 10 when it is severely disrupted), and fatigue (0 represents no fatigue and 10 the worst fatigue possible). Noting symptoms that are still a problem for you and adding details about the limitations they impose can help you and your healthcare provider target treatments. Sleep disturbance also can be measured using the Insomnia Severity Index.

Keeping a diary to track your progress can help you continue following your treatment program. Diaries are also helpful for guiding you in progressing at an appropriate pace -- not advancing too quickly or too slowly. Be sure to talk with your healthcare provider if you are not able to advance your program or continue following it, because your program may need to be modified.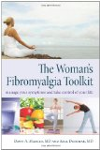 Continue Learning about Fibromyalgia Symptoms