If you ask any person with fibromyalgia (FM) what fibromyalgia is, their response would be pain; from the top of their head to the end of their toes. It's pain that "waxes and wanes" from day to day, and persists even with the use of scientifically accepted medical treatments. The pain experience is described as deep muscular aching, shooting, throbbing, stabbing, pounding and at times it is unbearable. People with FM do not sleep well, waking up feeling like they have been hit by a "Mack truck," with morning stiffness or spasticity that makes it difficult to move. Repetitive movement seems to accentuate the pain and forces many people with FM to severely limit their activities, including exercise routines. This lack of exercise results in people becoming physically unfit, causing their FM symptoms to become more severe. The other major complaint is fatigue so severe that people have a difficult time performing everyday tasks, enjoying hobbies, staying employed or taking part in their children's activities. People may feel as though their arms and legs are weighed down by cement and their bodies may feel so drained of energy that every task is a major effort.
Continue Learning about Fibromyalgia Symptoms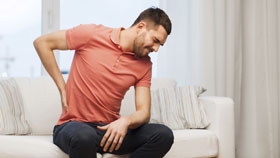 The main symptom of fibromyalgia is aching pain throughout the majority of your body, as well as deep muscle pain, fatigue, sleeplessness and painful tender points. Many people also have coexisting conditions such as depression, s...
tress and anxiety disorders due to the chronic condition.
More