See your doctor if you have fibromyalgia and think you may be experiencing cognitive dysfunction. Memory loss, poor attention span, cloudy thinking, and other cognitive problems are common symptoms of fibromyalgia. Patients and doctors alike call these cognitive difficulties "fibro fog." Your doctor can evaluate you to help find out what's causing your cognitive dysfunction and recommend strategies to help you feel sharper and more alert.
Continue Learning about Fibromyalgia Symptoms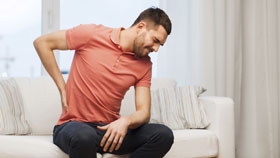 The main symptom of fibromyalgia is aching pain throughout the majority of your body, as well as deep muscle pain, fatigue, sleeplessness and painful tender points. Many people also have coexisting conditions such as depression, s...
tress and anxiety disorders due to the chronic condition.
More