Fibromyalgia symptoms are not all in your head. People with fibromyalgia have widespread chronic muscle pain in specific places on the neck, shoulders, back, hips, arms, and legs. The latest thinking is that some people are born with a genetic susceptibility to experience pain signals too intensely, but it takes a specific incident to trigger full-blown fibromyalgia. That may be a stressful or traumatic event, a repetitive injury, an illness, or certain diseases. If you have fibromyalgia, the symptoms are real.
Fibromyalgia isn't always easy to diagnose because many doctors aren't all that familiar with the condition. For years, people who suffered from fibromyalgia were told that the symptoms they were experiencing were all in their heads, but today we know that isn't true. We have a lot to learn about fibromyalgia, but we do know that it is a real condition and that it can be treated. With guidelines provided by the American College of Rheumatology, the condition has become much easier to diagnose. If you have pain consistent with fibromyalgia, talk to your doctor about getting an accurate diagnosis.
Continue Learning about Fibromyalgia Symptoms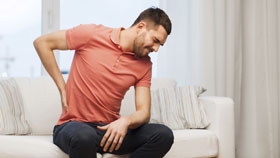 The main symptom of fibromyalgia is aching pain throughout the majority of your body, as well as deep muscle pain, fatigue, sleeplessness and painful tender points. Many people also have coexisting conditions such as depression, s...
tress and anxiety disorders due to the chronic condition.
More