Bladder or urinary problems may also occur with fibromyalgia, although these have been studied less extensively than bowel problems. The National Institutes of Health recently formed a Multidisciplinary Approach to the Study of Chronic Pelvic Pain Research Network to help better understand the causes of chronic conditions such as unexplained bladder or pelvic pain.
In general, studies show an increased risk for several pelvic or urinary tract problems with fibromyalgia:
Three in five women with fibromyalgia report pelvic pain, including vulvodynia -- pain of the external female genital organs that make up the opening to the vagina.
One in five have interstitial cystitis, which is unexplained bladder pain and pressure, with a frequent need to urinate and increased pain during urination.
People with interstitial cystitis or unexplained bladder pain are more likely to have fibromyalgia, irritable bowel syndrome (IBS), or chronic fatigue syndrome (CFS). Half of the people who have unexplained bladder pain will also have at least one of these other conditions.
If you are experiencing pain or other symptoms involving your bladder or genital area, ask your doctor to do a pelvic examination. Many easily treatable conditions, such as infection can also cause similar symptoms.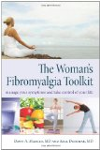 Continue Learning about Physical Effects of Fibromyalgia