There is no "miracle" diet for fibromyalgia -- and beware of claims that eating certain foods will treat or cure this condition. Instead, following a healthy, well-balanced diet is the best plan for people with fibromyalgia. Be sure to include plenty of whole grains, fruits, and vegetables. If you eat meat, chose lean cuts. Avoid caffeine, alcoholic beverages, and excessive sugar, which may irritate muscles and worsen your symptoms. Talk to your doctor about choosing a diet that's right for you.
A healthy diet can improve your symptoms associated with fibromyalgia. Studies have shown that individuals who perform regular exercise and eat well have elevated moods. Additionally, keeping a food journal can help you identify specific food triggers for your symptoms.
Despite loads of internet sites and diet products to treat fibromyalgia, there's little scientific evidence to support any single eating plan as a way to manage fibromyalgia. However, "diversity" seems to be the name of the game with this condition, with symptoms ranging from widespread muscle pain to joint pain to overwhelming fatigue. It's not a surprise then to learn, in treatment what works for one person very frequently does not work for another. Working closely with your health care provider, and possibly keeping a diet record to determine when symptoms come and go with dietary changes, may help you determine the foods you'll want to avoid and those to include.
Diet can impact fibromyalgia in that inflammatory foods can make fibromyalgia symptoms worse. Watch as rheumatologist Natalie Azar, MD, explains how a well-balanced, anti-inflammatory diet is helpful to ease the symptoms of fibromyalgia.
A healthy, high antioxidant diet can help fibromyalgia. Flooding the cells with antioxidants from fresh product and healthy non inflammatory fats, can reduce muscle aches. Avoid fried foods that contain inflammatory fats, refined flours and sugars. Take every opportunity to nourish your body with healthy foods.
Several dietary regimens previously recommended for fibromyalgia have shown no benefits, including supplementation with soy shakes and weekly intravenous nutrient therapy that included minerals and vitamins (the so-called the Myers' cocktail).

Nutritional therapy may be helpful for reducing digestive symptoms that result from irritable bowel disease -- which is common in fibromyalgia -- but it's important to distinguish irritable bowel syndrome (IBS) from celiac disease, an inherited autoimmune disease that causes a variety of unpleasant digestive symptoms, including pain, bloating, diarrhea, and constipation. It may also cause pain, fatigue, and mood disturbance, thus further mimicking fibromyalgia. Celiac disease is treated with a gluten-free diet.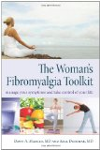 While diet hasn't been shown to affect fibromyalgia symptoms directly, it plays an important part in your health. It is easy to develop bad food habits when you are dealing with fibromyalgia pain, sleep problems, and psychological distress. But relying on comfort foods too much, especially if you are finding it hard to exercise regularly, can lead to weight gain, and being overweight or obese can make your symptoms worse. Losing weight often helps people with fibromyalgia feel better.

There isn't any evidence to suggest that you can minimize your fibromyalgia symptoms by changing your diet or taking supplements. However, eating healthy can't hurt. Regular exercise is often a vital part of the treatment plan for fibromyalgia and eating a well-balanced diet will help ensure that you have the energy and strength to stay active. If you decide to try any supplements, be sure to check with your doctor first. You'll need to make sure that they won't interfere with any treatment you're already receiving.