On top of feeling physically lousy, you may have to cope with many people (including some doctors) who don't understand or don't believe that you are really sick. Your income, relationships with loved ones, and quality of life have probably been profoundly affected by your loss of independence. You may have experienced actual grief over these losses without exactly realizing it. Prolonged negative emotions and chronic stress can trigger worsening fibromyalgia symptoms, especially sleeplessness and fatigue.

In psychiatrist Dr. Elisabeth Kübler-Ross's 1969 groundbreaking book On Death and Dying, she
outlined five stages of grief as the pattern most people experience as they face a chronic illness
or deal with grief:
1. Shock and denial. "This can't be happening to me."
2. Anger. "Why me? This isn't fair. I want my own life, too."
3. Bargaining. "Just let me live through another day."
4. Depression. "Why even bother anymore?"
5. Acceptance. "I'm going to be okay and live through this."

Not everyone moves neatly through the stages in an orderly fashion or at the same pace. For example, you might experience anger (stage 2) and then depression (stage 4), go backward to denial (stage 1), or get stuck at bargaining (stage 3).
The worst question my partner may ask me is, "Are you really experiencing that much pain!" Besides dealing with the pain and fatigue of fibromyalgia, you may also have to deal with the frustration of having a condition that's often misunderstood. In addition to educating yourself about fibromyalgia, you may find it helpful to provide information to your partner.
Continue Learning about Living With Fibromyalgia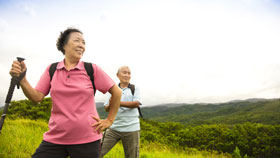 To live with fibromyalgia, work with your doctor to find a treatment that works for you and then stick to it. This will likely include regular exercise, reducing stress and getting plenty of sleep. A support group can provide idea...
s for how to manage the condition along with general encouragement.
More