Fibromyalgia is considered to be a chronic pain condition, but pain is only one of the many troublesome symptoms women with fibromyalgia are likely to experience. In many cases, pain is not their worst difficulty. In a survey of almost 2,600 people with fibromyalgia -- 97% of whom were women -- approximately two in five identified the following problems:
Pain:
Low back pain
Headaches
Arthritis
Muscle spasm
Sleep and tiredness:
Digestive issues:
Irritable bowel syndrome
Bloating
Emotional distress:
Nervous system problems:
Balance difficulties
Numbness
Tingling
Some people may find that one or two symptoms really bother and limit them. Others are affected by pain in many parts of their bodies. Sometimes, fibromyalgia involves having pain, feeling exhausted, and being afraid that your next meal will set off a bout of diarrhea. Others may be worn out by a combination of pain, not being able to get a good night's sleep, and constant anxiety.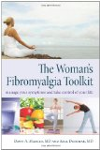 Continue Learning about Living With Fibromyalgia