Fibromyalgia is a disorder that causes chronic muscle and soft tissue pain, widespread tenderness, general fatigue, and non-restful sleep. Fibromyalgia often affects people with lupus. In fact, fibromyalgia causes most of the pain experienced by those who have lupus. Fortunatley, there are a variety of lifestyle changes that can ease and manage the pain and symptoms that fibromyalgia causes.
Here are some tips to help keep fibromyalgia symptoms under control:
•Stay active
- You may believe that limiting your daily activities helps to reduce pain and fatigue, but actually the opposite is true. You can schedule short daily rest times to help you keep up with your day, but spending too many hours resting may make your symptoms worse.
•
Manage your stress
- Stress can trigger physical symptoms such as headache, increased pain, and muscle tension, so try to keep your stress under control. Of course, there are some stressors that you
can
control and others that are simply out of your hands. Focus on what you can control and direct your energy toward future growth.
•
Exercise
- Research has shown that light stretching activities such as Tai Chi and yoga can help relax muscles and improve some of the pain associated with fibromyalgia. Moderate or intense exercise for about 30 minutes helps the brain release endorphins - substances that make you feel good and experience a "natural high."
•
Socialize and eat a healthy diet
- A supportive social network and a healthy diet can also help to ease feelings of emotional and physical discomfort and promote an overall sense of well-being.
If you feel you need more help in managing your fibromyalgia, your doctor can assist you in devising coping strategies.
Continue Learning about Living With Fibromyalgia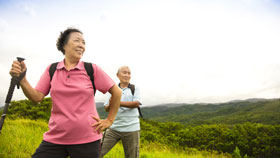 To live with fibromyalgia, work with your doctor to find a treatment that works for you and then stick to it. This will likely include regular exercise, reducing stress and getting plenty of sleep. A support group can provide idea...
s for how to manage the condition along with general encouragement.
More