When you tell your partner you have fibromyalgia, you can hope for the best. But don't be surprised if he or she is confused, frustrated, or even angry. The problem is that some people really don't know how to respond to news that a partner has fibromyalgia. That's probably due at least in part to misunderstanding about this condition. As your partner learns more about fibromyalgia, he or she may become more understanding and supportive. If fibromyalgia puts a major strain in your relationship, though, consider seeing a couples counselor.
Fibromyalgia profoundly affects relationships, marriages, and long-term partnerships. Being in constant pain and disabled can magnify a relationship's past imperfections or strengthen what was already strong between spouses and partners.

Fibromyalgia expert Dr. Michael McNett, explains, "Fibromyalgia polarizes relationships. One spouse's or partner's fibromyalgia can expand fissures that had been almost invisible; but sometimes the diagnosis can bring couples closer together."

Gregg Piburn, a Colorado management consultant and the author of Beyond Chaos: One Man's Journey Alongside His Chronically Ill Wife, says, "Struggling with chronic illness in the family was very difficult for us. I call fibromyalgia the 'Intruder' because it robs your relationship. I think we got better as time went on, but our kids watched us struggle and we made mistakes."

Shifting roles in the marriage or partnership can cause communication breakdowns. The well spouse is suddenly thrust into the role of caregiver or must take on additional chores. A key difference between men and women is their comfort level with the role of caregiver. Some men find care giving unfamiliar and awkward territory because they are accustomed to solving problems. Men typically prefer to be Mr. Fix-it. Some male partners get frustrated with the permanence of fibromyalgia's symptoms. Unfortunately, the divorce rate among couples touched by chronic illness is a whopping 75 percent, according to a national survey cited by Rest Ministries.

Daily routines can be heaved upside down. Both partners often feel tremendous stress, usually within their relationship as well as from external stressors, such as countless doctor appointments, new medications, overbooked schedules, and financial worries.

However, many couples enjoy being together despite living with the "Intruder." The secret is a willingness to do whatever it takes to make the relationship work and to keep the communication lines open. In fact, some couples draw closer and join forces as allies against their common enemy.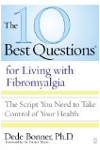 Continue Learning about Living With Fibromyalgia