Here are some tips for making exercise a success if you have fibromyalgia:
Start low and go slow. Choose an exercise you think you will enjoy and start at a level that's comfortable for you. Exercise at this level for at least 1 week before trying to increase your exercise duration or intensity. Alternate increasing duration and intensity -- don't increase both together -- and then stay with one level without increasing the other until you've been comfortable during exercise for at least 1 week.
Choose an appropriate intensity level. You should be able to chat with someone when you're exercising, but not sing. If you can sing, you're not working hard enough. If you can't talk comfortably, slow down.
Don't forget to stretch before and after aerobic exercise. In general, stretching exercises are less helpful for people with fibromyalgia than for people with other types of chronic pain. But don't completely forego stretching; it's essential to help your muscles get warm, flexible, and ready for exercise -- and to cool down after exercise. Stretching also helps reduce your risk for injury and pain flares.
Plan your exercise for the time of day when your fatigue is usually the least. If you typically take a short nap in the afternoon, try exercising after your nap, when you feel rested.
Make exercise part of your daily routine. Don't decide on a day-by-day basis if you should exercise that day -- make it a must-do, as with brushing your teeth or styling your hair. If you're having a particularly bad day, cut back on exercise rather than cutting it out. Once you start missing here and there, it's easy to stop exercising altogether. Scheduling daily walks or doing your exercise in front of your favorite daily television shows can encourage you to find time for exercise.
Find a reliable exercise buddy. Having an exercise partner is one of the most powerful motivators for sticking with an exercise program. Select someone whose physical abilities are similar to yours, so you don't go too fast or too slow. A great walking buddy -- and one who never accepts an excuse for skipping a day of exercise -- might be your dog!
Measure your exercise duration in minutes, not distance. Measuring time is easier.
Get a new pair of exercise shoes at least every 6 months. Exercising in old shoes can increase pain and the risk for injury.
If you have problems with stiff joints, try exercising in a warm swimming pool rather than an air-conditioned gym.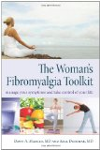 Continue Learning about Fibromyalgia and Exercise