A personal trainer should be willing to work with your doctor in a collaborative exercise program strategy. In working with clients with fibromyalgia, exercise programs will most likely need to be modified.

Fibromyalgia clients typically have a low pain tolerance and be affected by exercises more than the Personal Trainer's other clients. However, increasing the range of motion in muscles and joints may help alleviate pain.
Make sure your fitness club has a pool and classes like "gentle yoga" are good for you too. Having been a trainer for several fibromyalgia sufferers I know that there are good days and bad days and I urge you to go into the gym even on your bad days if you are having more than 3 bad days a week. Stay home on one of your bad days and rest but if the bad days persist I would ask you to at least sit or walk through a pool trying to keep a good level of blood circulation as this is crucial for pain relief throughout your day. On good days if you can tolerate a gentle massage I would suggest your fitness club has an onsite massage therapist that can give you a good, gentle massage as well. A workout partner or trainer to talk you through certain exercises would be an added benefit to help you stay accountable so you can reach your fitness goals even through your most painful of days.
If you have fibromyalgia and are seeking a fitness club an important question to ask is if they have a staff member familiar with the condition and are they able to assist you in a training program specific to your needs. A person with Fibromyalgia should involve themself in a stregnth and fitness program, but also have a clear understandng of thier personal abilities. This person should also know when to stop during exercise if the condition becomes problematic. Excellent sources for workouts are aquatic training or classes, balance training in multi directional planes using body weight or bands, along with machines which help to stabilize your postural position until your are able to have the stregnth to do so on your own. And as with any fitness routine a warm up and cool down period are especially important for one with fibromyalgia as it is a way of gaging your symptoms for the day before and after a workout. A good fitness club will have staff on hand who understand fibromyalgia as a condition that requires special care of a patron of their facility and will assist as needed.
The question "What activities and support services are available here?" is ultimately the deal-breaker question when deciding whether or not to join a particular gym or fitness club. If you want water aerobic classes but there's no pool in this fitness club, you'll have to look elsewhere. You may want yoga classes, tai chi, massages, or walking programs but this club only offers kickboxing and step aerobics.
Follow-up questions include, "May I see a class schedule?" "What services do you offer for seniors or that are less intense?"
Also check to see if any of this club's advertised activities have additional charges or hidden fees. Some popular classes like yoga may cost extra.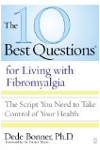 Continue Learning about Fibromyalgia and Exercise