The long-term health effects of fibromyalgia vary from person to person. In many cases, fibromyalgia never goes away. Yet there is some good news about long-term health effects associated with fibromyalgia. Unlike other painful conditions such as osteoarthritis -- the most common cause of joint pain -- fibromyalgia is not a progressive disease. It doesn't cause tissues in the body to wear away. For this reason, the symptoms of fibromyalgia may not worsen over time. In fact, some people with fibromyalgia notice that their symptoms actually improve. Working closely with your doctor can help you to manage fibromyalgia over your lifetime.
Continue Learning about Fibromyalgia Complications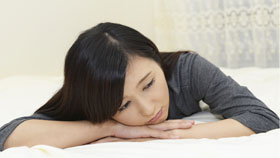 People who have fibromyalgia frequently complain of a variety of symptoms that affect other parts of the body. Many people complain of gastrointestinal issues and restless legs syndrome (RLS). Additionally, the chronic pain and di...
scomfort of fibromyalgia may lead to depression.
More